Off the back of the release of their latest single 'Can't Be Seen', Sydney indie-rock group YEEVScelebrate the release of their debut album, YEEVS. The album, out now, has the band flexing strong songwriting muscle as they weave their way through lyrical territory dealing with personal growth; as well as capturing the insatiable energy encompassing the band's live presence, on record.
As seen with the band's latest single, the rich tone in Bradley Cork's vocals permeates throughoutYEEVS, while the sonic builds demonstrate a tight musicianship and dynamic that has developed brilliantly over the years. Recorded out on a farm in Wisemans Ferry in regional NSW, YEEVS was brought to fruitiion in a very special place for the band. "The farm is a magical place, it's a breeding ground for creativity and stillness, for friendship and solitude and to maintain an amount of escapism from normality (no phone reception and country air will do a lot for you)." YEEVS 
Since the band's inception four years ago, YEEVS have become a captivating force on Sydney's indie scene, with emotive live shows and a strong interest in furthering themselves sonically positioning the band as ones to watch on the East Coast. Earlier in 2019, YEEVS released 'Moving Magnets', which offered fans their first insight into the debut YEEVS record; highlighted by depth and richness in tone, the single laid great foundations that 'Can't Be Seen' has capitalised on. 'In Time All Too Late', highlights the classic storytelling and nuanced approach to structure at play on the record, while 'Divine Intermissions'– as an album closer – ties the listening experience up beautifully.
The listener can hear the maturity in the band's output, the wise use of space in arrangement and a balance of light and darker tones on album tracks 'Common Ground' and 'Dancing String'. For Cork, exploring his own creative process during the making of the album was an excellent experience. "The theme that runs throughout the record is letting go of pent up negative energy and turning it into something constructive. While these emotions have existed within me, as they do with everyone, it's always a joy to write songs and create." Bradley Cork 
PRAISE FOR YEEVS
"Backed by some slick guitars, pounding drums, and the distinctive vocals of Bradley Cork, the tune is a punchy number with an almost cathartic closing that leaves you gasping for more."
ToneDeaf ('Can't Be Seen', 2019)
"…uncovering a tender soulful sound underneath their grittier transformation which began with 'Moving Magnets' earlier this year."
The AU Review ('Can't Be Seen', 2019)
"The songwriting is seriously something. I love how angry it feels near the end. Big heart eyes for this."
Triple J Unearthed, Claire Mooney ('Moving Magnets')
"I can't get enough of Yeevs. To say you wear your heart on your sleeve doesn't do justice to the honest, raw, searing passion that each release exudes."
Triple J, Declan Byrne ('Clatter & Green')
"…an assortment of soaring indie gems littered with anthemic vocals and a sprinkling of punk vibes, making for a uniquely impressive debut."
MusicFeeds (How To Harken Back EP)
"…it manages to set up camp in the thin line that lies somewhere between anguish and joy, capturing the best of both worlds whilst the band continue their ascent."
Little Indie Blogs (Bellow Of Cheer EP)
Bringing YEEVS out on the road this September, YEEVS are brandishing a live show that has come together smoothly over the last year. Their group dynamic currently at its creative best, YEEVS are ready to introduce their much anticipated album to fans along the east coast and beyond, with more dates still to come.
YEEVS TOUR DATES
Thursday, September 12th Franks Wild Years Thirroul
Free Entry
Friday, September 13th Parkhouse Hotel Sydney
Free Entry
Saturday, September 14th
 Slyfox 
Sydney
Tickets
Wednesday, September 18th Vinnie's Dive Bar Gold Coast
Tickets
Thursday, September 19th The Bearded Lady Brisbane
Tickets
Friday, September 27th The Penny Black Melbourne
Free Entry
Saturday, September 28th The Eastern Inn Ballarat
Tickets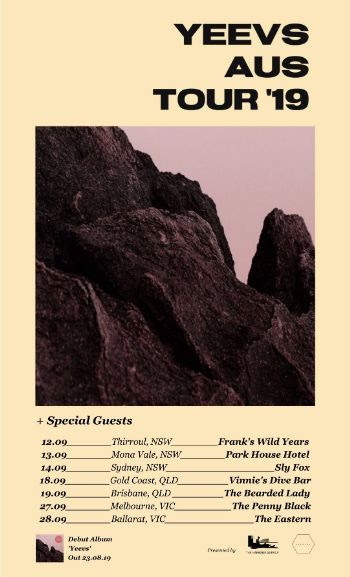 YEEVS is out now.
Official Website | Facebook | Twitter | YouTube | Triple J Unearthed