Greta Van Fleet – Jake Kiszka/guitars, Sam Kiszka/bass & keys, Josh Kiszka/vocals, and Danny Wagner/drums – are very proud to announce the upcoming release of the band's debut album, Anthem of The Peaceful Army, due out October 19 on Lava Records. The album is available for pre-order now from here.  Fans who pre-order the album will receive an instant grat track, the brand new song "Watching Over," that is also available now on all streaming services.  
Collectively written by all four band members, the ten original songs explore a variety of topics that include fresh starts, love, integrity, innocence, adventure, diversity and peace, the life cycle and its inherent responsibilities, courage, masked deceptions, revolution, and truth.  Blending rock, soul and blues, Jake's blazing guitar riffs, Josh's soaring, powerful vocals, Danny's thunderous drums, and Sam's swaggering baselines and keys create a menagerie of musical elements throughout.
Anthem of the Peaceful Army was produced by Marlon Young, Al Sutton and Herschel Boone (The Rust Brothers) and recorded earlier this year at Blackbird Studios in Nashville and Rustbelt Studios in Royal Oak, Michigan.  
The first single from Anthem of the Peaceful Army, "When The Curtain Falls" arrived at rock radio in the U.S on August 15 and is already a Top 10 track with more than 10-million streams.  The song's companion music video has surpassed 1.4-million views.  
Music fans were first introduced to Greta Van Fleet in March 2017 with the release of the band's debut single "Highway Tune" that held the #1 position on U.S. Rock Radio Charts for five consecutive weeks and on Canada's Active Rock Radio Charts for nine straight weeks.  For Greta Van Fleet, 2017 went on to be a wild ride of sold-out concerts in North America and Europe, glowing press, accolades from a slew of fellow artists from Elton John to Nikki Sixx to Justin Bieber, millions of YouTube video plays and Spotify streams, two #1 EPs, and most importantly, the genesis of an extraordinary connection with their fans.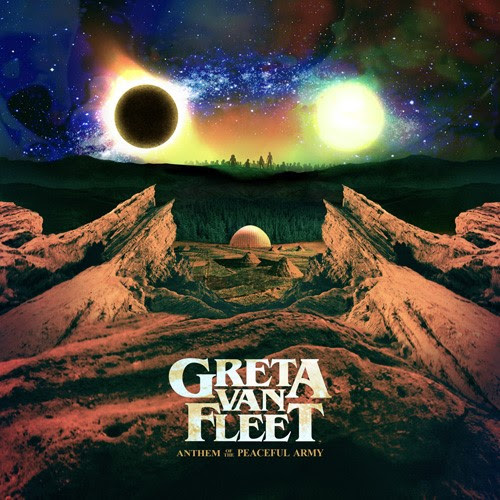 Anthem of the Peaceful Army will be available on CD, Vinyl and digitally.
Track listing as follows:
1.   Age of Man
2.   The Cold Wind
3.   When The Curtain Falls
4.   Watching Over
5.   Lover Leaver (Taker Believer)
6.   You're The One
7.   The New Day
8.   Mountain of the Sun
9.   Brave New World
10. Anthem
11. Lover, Leaver (Taker, Believer) *
*digital version only